Leadership Studies (Interdisciplinary Minor)
http://www.whitworth.edu/leadershipstudies
The mission of the Whitworth Leadership Studies Program is to educate the minds and hearts of those who practice leadership. The program makes a significant and unique contribution to the study and practice of leadership through its integration of principles and theories of leadership with the transforming nature and the moral authority of Christ. Students acquire knowledge and skills informed by emerging and related collaborative and transforming leadership theories. The program teaches a perspective on world need that is broad, inclusive and empathetic.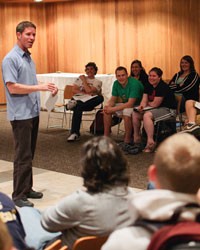 The learning outcomes of this minor prepare the student to obtain the following:
Knowledge
Students who complete the Whitworth Leadership Studies Program will...
develop knowledge of the evolution of the theories of leadership and management, as well as theories that inform various practices of leadership, e.g., conflict management.
be able to understand, in different kinds of leadership situations, how to choose appropriate situational leadership styles and understand the basic leadership theory that informs their practice of leadership.
understand how complexity theory and chaos theory inform their analysis of organizations.
understand the differences between transactional and transforming leadership and the benefits of each in different kinds of leadership and organizational settings.
learn to develop and present a comprehensive project proposal.
explore the relationship of leadership to service by participating in local and global service projects.
have appreciation and knowledge of both the breadth and the depth of contemporary and classical leadership literature.
Skills
Students who complete the leadership studies program will gain skills and competence in the following areas:
moral reasoning
leading change
critical-thinking skills
creative problem-solving skills
conflict-resolution skills
human motivation
organizational behavior
communications issues
servant-leadership
ethical practices in leadership
participation on leadership teams
Requirements for a Leadership Studies Minor (19)

Required core courses:

LS 250
Principles of Service and Leadership
3
LS 350
Transforming Leadership
3
LS 401
Leadership Seminar
1

Three semester credits from the following:

3
Leadership Internship
Chaos Theory, Leadership and Management
Community Leadership Training
Foundations for Christian Leadership
Foundations for Christian Leadership II

Supporting curriculum (choice of nine semester credits):

9

Business and Economics (no more than six semester credits):

Introduction to Business and Management
Organizational Behavior
Social and Ethical Issues in Business and Economics
Organizational Theory
Chaos Theory, Leadership and Management
Economic Development

Communication Studies (no more than six semester credits):

Publicity and Public Relations
Organizational Communication
Group Dynamics
Intercultural Communication
Communication Ethics

English, Political Science and History (no more than six semester credits):

American Drama Since 1900
American Intellectual History
Nonviolent Defense and Conflict Resolution
International Political Economy
Introduction to Public Administration
International Development (Cross-listed as PO 425W)

Psychology and Sociology (no more than six semester credits):

Cities and Urban Life

Theology & Philosophy (no more than six semester credits):

Ethics
History of Christianity I
History of Christianity II

Other Discipline Areas (no more than nine semester credits):

Evolutionary Biology
Developmental Biology
Educational Psychology for Children and Adolescents
Democracy, Leadership, and Schooling (Cross-listed as EDU 401W)
Philosophical and Psychological Aspects Of Coaching
Organization and Administration of Athletic Training
Applied Team Leadership
General Conducting
Advanced Conducting
General Physics I
Quantum Mechanics (Cross-listed as PS 455)
Fundamentals of Directing

Special Topics:

Topics in Leadership Studies
Topics in Leadership Studies
Courses
| | | |
| --- | --- | --- |
| LS 151 | General Physics I (Cross-listed with PS 151) | 3 |
| LS 151L | General Physics I Lab (Cross-listed with PS 151L) | 1 |
| LS 172 | Foundations for Christian Leadership | 2 |
| LS 173 | Foundations for Christian Leadership II | 2 |
| LS 196 | Topics in Leadership Studies | 1-3 |
| LS 201 | Educational Psychology for Children and Adolescents (Cross-listed with EDU 201) | 3 |
| LS 202 | Exploring Teaching (Cross-listed with EDU 202) | 1 |
| LS 221 | Ethics (Cross-listed with PH 221 and TH 221) | 3 |
| LS 225 | General Conducting (Cross-listed with MU 225) | 2 |
| LS 244 | Publicity and Public Relations (Cross-listed with JMC 244) | 3 |
| LS 250 | Principles of Service and Leadership (Cross-listed with DS 250) | 3 |
| LS 297 | Nonviolent Defense and Conflict Resolution (Cross-listed with HI 297 and PO 297) | 3 |
| LS 302 | Applied Team Leadership (Cross-listed with MI 302) | 3 |
| LS 305 | Introduction to Public Service Leadership | 3 |
| LS 313 | History of Christianity I (Cross-listed with TH 313) | 3 |
| LS 313W | History of Christianity I (Cross-listed with TH 313W) | 3 |
| LS 314W | History of Christianity II (Cross-listed with TH 314W) | 3 |
| LS 316 | American Drama Since 1900 (Cross-listed with EL 316) | 3 |
| LS 322 | Philosophical and Psychological Aspects Of Coaching (Cross-listed with KIN 322) | 3 |
| LS 322W | Philosophical and Psychological Aspects Of Coaching (Cross-listed with KIN 322W) | 3 |
| LS 323 | Organizational Communication (Cross-listed with SP 323) | 3 |
| LS 325 | Economic Development (Cross-listed with EC 325) | 3 |
| LS 330 | Community Leadership Training (Cross-listed with GE 330) | 1 |
| LS 332 | Organization and Administration of Athletic Training (Cross-listed with AT 333) | 3 |
| LS 333 | Evolutionary Biology (Cross-listed with BI 333) | 3 |
| LS 333W | Evolutionary Biology (Cross-listed with BI 333W) | 3 |
| LS 350 | Transforming Leadership (Cross-listed with DS 350) | 3 |
| LS 351 | Group Dynamics (Cross-listed with SP 351) | 3 |
| LS 353 | International Political Economy (Cross-listed with PO 353) | 3 |
| LS 354 | Developmental Biology (Cross-listed with BI 354) | 4 |
| LS 354L | Lab: Developmental Biology (Cross-listed with BI 354L) | 0 |
| LS 354W | Developmental Biology (Cross-listed with BI 354W) | 4 |
| LS 361 | Fundamentals of Directing (Cross-listed with TA 361) | 3 |
| LS 362 | Argumentation and Debate (Cross-listed with SP 362) | 4 |
| LS 365 | Cities and Urban Life (Cross-listed with SO 365) | 3 |
| LS 371 | Introduction to Public Administration (Cross-listed with PO 371) | 3 |
| LS 390 | Leadership Internship | 1-4 |
| LS 396 | Topics in Leadership Studies | 1-3 |
| LS 398 | Intercultural Communication (Cross-listed with SP 398) | 3 |
| LS 401 | Leadership Seminar | 1 |
| LS 402W | Democracy, Leadership, and Schooling (Cross-listed with EDU 401W) | 3 |
| LS 410W | American Intellectual History (Cross-listed with HI 410W) | 3 |
| LS 424W | International Development (Cross-listed with PO 425W) | 3 |
| LS 425 | Organizational Behavior (Cross-listed with BU 425) | 3 |
| LS 427 | Advanced Conducting (Cross-listed with MU 427) | 2 |
| LS 450W | Social and Ethical Issues in Business and Economics (Cross-listed with BU 450W) | 3 |
| LS 453W | Organizational Theory (Cross-listed with BU 453W) | 3 |
| LS 456 | Quantum Mechanics (Cross-listed with PS 455) | 4 |
| LS 470W | Strategic Leadership in Public Service Organizations | 3 |
| LS 490 | Leadership Internship | 1-4 |
| LS 493 | Communication Ethics (Cross-listed with SP 493) | 3 |
| LS 497 | Topics: Leadership | 1 |
Program Contact
JACK BURNS
Dean of Arts and Sciences
NOELLE WIERSMA